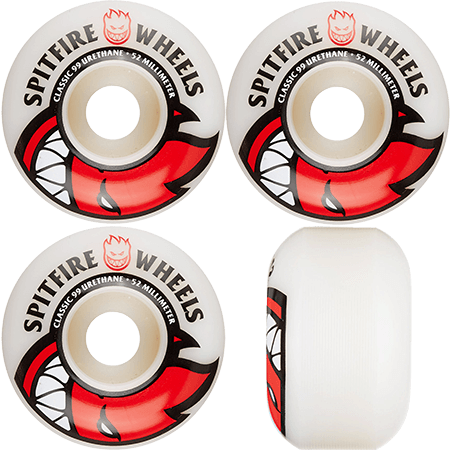 Spitfire Bighead Wheels 52mm
Spitfire Bighead 52mm Wheels (Set of 4)
Spitfire Bighead 52mm 99a Skateboard Wheels. Classic Bighead logo for less flatspots and a faster ride and less hookups in the street. Yeah they're fast wheels. The 52mm size will maintain a solid roll on the flat and good momentum for technical tricks. The bearing core is center-set so you can reverse the wheel to save the graphic or to maintain a longer life by rotating your wheel placement over the life of the wheel. This is handy when you slide your wheel often particularly in urban terrain that can wear your wheels in an uneven way.
Wheel Shape / Profile: Classic - Spitfire claim this is the #1 shape in skateboarding world wide. And it probably is. This shape first emerged in the early 90's and has been a popular go-to ever since.  It features a large radius from the bearing seat which produces a fairly narrow contact patch. It is the great all rounder. For more info read Spitfire Wheel Shapes Explained
The Classic 99A formula: Formulated using the original Spitfire recipe, this classic formula is still very popular. It is a modern version and has been improved over time. It is trusted by Spitfire riders that have been riding them for years. Of the hard formulas if is a little more forgiving to ride on. The Classic formula is great go to wheel for any terrain and could be considered the best Spitfire all rounder. Being slightly softer it can flat spot a little easier than the newer tweaked Formula Four wheels. The nice thing with the Classics is the natural coloured wheels have a minty crisp white appearance. For more info read Spitfire Wheel Formulas Explained
Wheel Size -  The 52mm size offers fast acceleration and a lower ride for quicker pops and maintaining good momentum on small transition and ramps. The smaller size is great for techy street shredders and smaller sized humans.